New Hampshire – A second winter storm of the week threatens New Hampshire one day after a storm brought a quick burst of a couple inches of snow across southern areas of New Hampshire, Causing multiple crashes, and sendings cars off the road.
This storm however, will bring heavy snow in the North Country and areas north of Concord. For the big cities in the state, the rain snow line will again be a crucial factor in this storm. Mixed Precipitation including Rain, Snow, Sleet, and Freezing Rain will impact the commute Thursday Morning, and will likely cause multiple crashes, and bring multiple cars off the road. Use caution while driving late Wednesday night and Thursday Morning, stay alert, and make sure, if your windhseild whipers are on, that your headlights are also turned on, to allow for increased visivbility for other vehicles.
****TIMING****
Snow and mixed precipitation will be starting between midnight and 2am, meaning again for a messy commute Thursday Morning, mixed preiciptation will continue in Southern New Hampshire and linger unil 2-4 PM with a few snow showers remaining for Thursday Night.
****TOTALS****
Snow Totals will vary. Again, the rain-snow line will be a crucial point in determining who gets mainly snow, and who gets just rain. Models still are having a bit of difficulty with the totals for this storm.
Totals for Southern New Hampshire will range in the 3-6″ range while areas in the North Country and North of Franklin and Canterbury should recieve a greater amount ranging from 6-12 inches. Some areas in Higher Terrain, could get more than 12 inches from this storm. Im expecting that I-89 Will have some trouble areas as normal, due to the terrain, and changes in weather conditions across that highway, leading to multiple accidents, and car's that go off the road.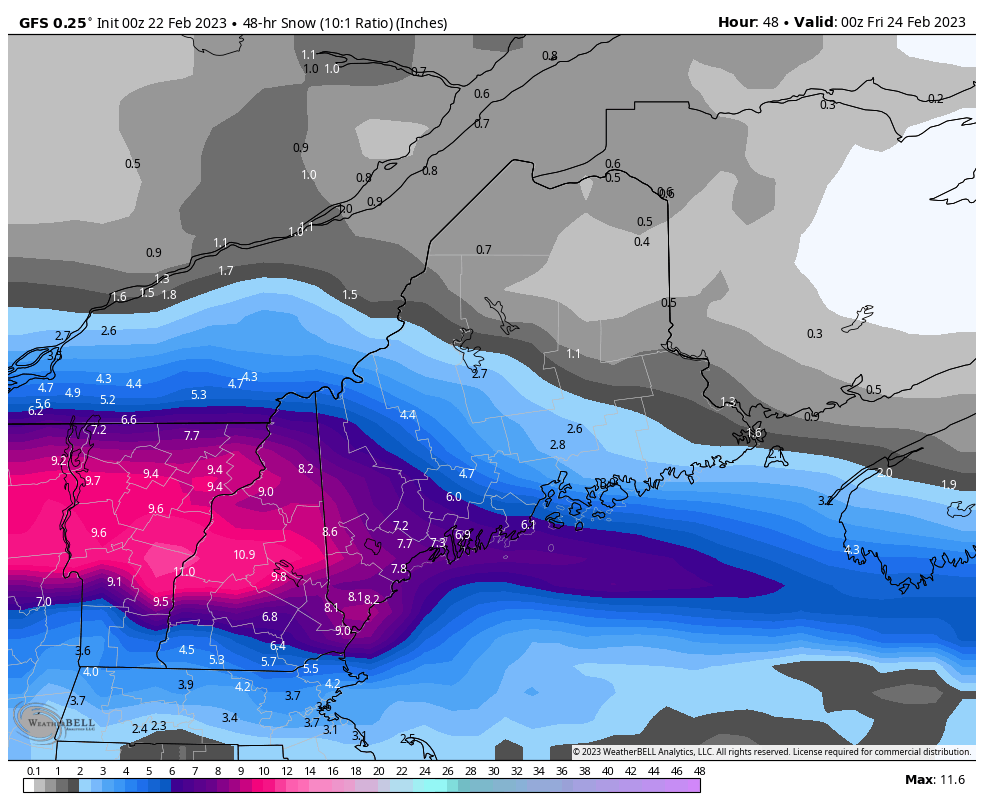 I would advise if you have to go out, use caution, obey the posted speed limits, and leave a distance between you and the vehicle in front of you to allow for stopping distance. Icy and Snow Covered roads will lead to slick spots especially in higher terrain, like areas across I-89 from Lebanon South.
****TEMPERATURES****
Temperatures for this storm will be different again, depending on elevation. Temperatures South and West of Concord will be in the mid to upper twenites, with some areas approaching the 32 Degree mark meaning for a greater chance of mixing South.
Temperatures in the North Country still won't be a problem during the day, as temepratures will only be in the low 20's and teens. Temperatures Friday, will also drop as a colder airmass approaches behind the storm, bringing cold tempertures as well as windchills below zero in many areas Friday Night.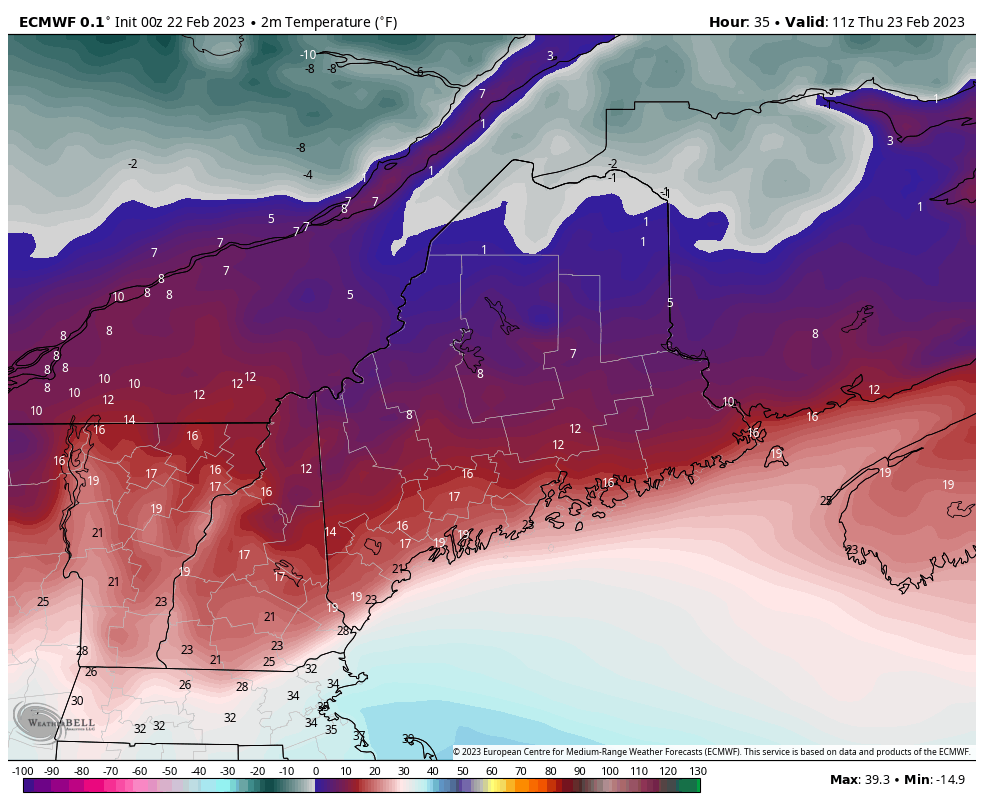 Winds will also start to pick up Thursday Night with wind gusts up to 25 MPH in some areas across the state.
Stay safe, and Stay alert!
–James Sickler